Many people will try to swindle you. Understandably, in the midst of a plumbing emergency, you may be vulnerable to scams and fraud by unscrupulous individuals.
Outline:
There are many ways that plumbers can be dishonest and take advantage of you. Here are eight ways to tell if your Plumber is a scam:
1. They offer deals that are too good to be true.
It's hard to resist "once-in-a-lifetime" deals. But are they really good deals? Most often than not, if you come across a deal that seems too good to pass, you might want to take a step back.
A good plumber will know the value of their services and will price their services accordingly. They might give you some form of discount or incentives, but not wouldn't be able to offer their services for a fraction of their competitors' costs.
Scam plumbers have no trouble giving out extremely low quotations, and they do this to get you into their doors. Then, when you've committed, they'll upsell you with unnecessary services and products or even "recommend" pipe repairs that are not really needed. All these extra costs can add up quickly, and you will end up with a much higher cost.
2. They use high-pressure sales tactics to get your business.
Bad plumbers will also resort to intimidation and other high-pressure sales tactics to convince you to hire them. They might try to rush you into making a decision, or they might even scare you by saying that your plumbing system is in danger of bursting or leaking at any moment if you don't get it fixed right away.
A good plumber will be patient, explain all of the options to you clearly, and let you make an informed decision. They will also give you a quote for the job before they begin working, so there should be no surprises.
3. They ask for money upfront and always ask you to pay in cash.
A good plumber will never ask you for money upfront. They will only charge once they have finished the work, and they will give you a detailed invoice that includes everything that was done. They will also offer safer payment options for you, wherein you can reverse transactions should there be any issues.
Scam plumbers like everything in cash, most likely because they don't want to leave paper trails or give you the opportunity to get back your money after they've scammed you into hiring them. To convince you, a scam plumber might even pretend that you'll get a huge discount for paying upfront and in cash. If this happens to you, take it as a red flag and avoid working with them at all cost.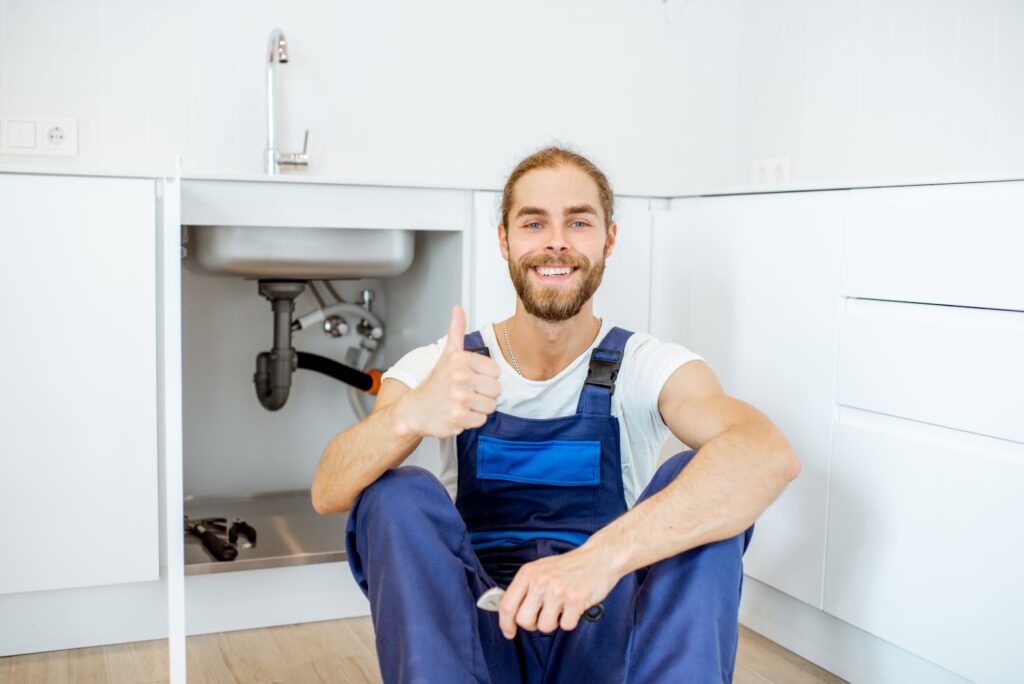 4. They don't provide their license number or contact information on the invoice
A good plumber will always provide their license number on every invoice, along with their contact information. This is to ensure they can be contacted if there are any problems with the work they did—and also because it shows that the state has licensed them. If a plumber doesn't give you this information, it's because they're probably hiding something from you, like a shady past, or worse, that they have no license at all.
5. They make excuses when you ask for their licenses, permits, or proof of insurance
Scam plumbers will always come up with excuses when you ask for their licenses. If they don't have a license, they'll say it's because they're new in town and just starting out. Other times they'll claim that their boss keeps all their documents locked away in the truck or something similar.
On the other hand, good plumbers will prominently display their licenses and permits. These documents are like badges of honor that show their legitimacy and that they are legally allowed to do the work they're doing.
6. They can't provide videos or pictures of their actual work
If you're looking to hire a plumber, one of the best ways to vet them is by looking at their work. You can find testimonials on their website or get some referrals from friends and family.
A scam plumber won't have any pictures or videos of their work because they're not actually doing any work. A good plumber will happily show you everything they've done so far and even provide references if you ask for them.
7. They don't formalize agreements in a written contract
A good plumber will formalize your agreements, including their scope of work and quotes. A scam plumber will avoid formalizing anything in writing, or they'll ask you to sign a blank contract. Not wanting to formalize agreements is a huge red flag because it means they don't want to be held accountable for anything that goes wrong.
8. They show up late or make excuses when they miss deadlines or care less about their output
Good plumbers are conscious of their commitments, especially with their deadlines. They will work professionally and responsibly and show up on time or call to let you know if they will be late. A scam plumber isn't concerned with their obligations and will make excuses when they can't meet their commitments.
Moreover, scam plumbers won't care about the quality of their work and will show no pride in what they do. A good plumber will take pride in their craftsmanship and ensure that everything is done properly, from the materials used to how it looks when finished. A scam plumber will use cheap materials, cut corners and do a poor job.
Good Plumbers in Waco, Texas
Are you looking for a plumber in Waco, Texas? Trust us at Smelscer Plumbing. We provide high-quality residential and commercial plumbing services throughout the Central Texas area, including slab leak repair and trenchless sewer repair. Our Waco plumbers are licensed and trained to handle any plumbing job quickly and efficiently.
Call us today at 254-749-7955 to learn more about our plumbing services or to schedule an appointment with one of our experts.